"7 Daily Strength Training Habits For High Velocity Pitchers"
Do you really want to throw faster? Train for it. Focus on these 7 things everyday. To download the free checklist. Click below.
By Zach Calhoon
Free – Click here

"18 Rotator Cuff Exercises – For Everyday Shoulder Health"
Here is the exact workout I did before every throwing sessions. You can have it today.
By Zach Calhoon
Free – Click here 

The Pitchers Throw Cheese Throwing Program
By: Zach Calhoon
Here is the exact throwing routine I used to throw 95 MPH. Its pretty intense, and not for everyone.
Here is what you get…
The exact amount of throws to accomplish each day
The expected effort for each phase of throwing
Learn when to long toss
Learn when to throw your bullpen
Have a plan, and stop guessing
Click Here To Learn More

Fastball Muscle: Your First Step to 90+ MPH
"How to train fast twitch functional muscle for pitchers, and stop wasting time."
By Zach Calhoon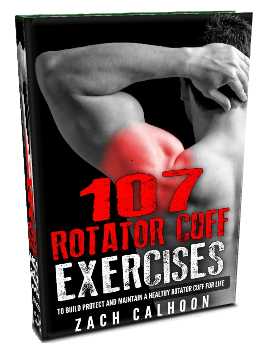 107 Rotator Cuff Exercises 
to Build, Protect and Maintain a Healthy Rotator Cuff for Life
By Zach Calhoon
Check out whats inside…
Shoulder anatomy breakdown – The joint, muscles, ligaments, and tendons. Know your shoulder from the inside out, so you can dominate shoulder health
Shoulder movement defined – How your shoulder should move and the exact names for each movement
Common shoulder injuries and how they feel – Avoid tears, impingments, instability, arthritis,  and inflammation at all cost
Learn 37 stretches and how they increases rotator cuff flexibility and mobility
Learn 18 dumbbell exercises that are simple and useful
Learn 19 Resistance bands workouts that actually work
Learn 11  Shoulder workouts from the floor. Build strength and stability, with no equipment
Learn 14 Advanced strength moves that promote big muscle size and strength
Plus the exact shortcut I use to maintain shoulder health for life…
And much much more
This eBook Makes Rotator Cuff Health Easy…

"17 Core Exercises To Increase Pitcher Velocity"
By Zach Calhoon\
Here is my favorite core exercises that I recommend for pitchers. Each lesson has pictures and full details (step by step) how to accomplish these moves. Some workouts are beginners, and some are advanced. All of these moves will help you explode your core and increase your fastball velocity. I love core strength and you should too.

"7 Leg Exercises To Increase Pitcher Velocity"
By Zach Calhoon
There is only a few  things I love more than big biceps, and its huge "Tree Trunk" legs. Its time for you to optimize your most powerful part of your body, your legs. Use these 7 moves to guarantee balanced functional leg strength. Let me know what you think…
Coming soon…
—
—
—
—
—
—
Special Bundle Deal: Get All of These Best Selling eBooks in this exclusive deal
The Pitchers Throw Cheese Ebook Bundle
Exclusively Here at pitchersthrowcheese.com
—
Book 1: Fastball Muscle – Your First Step To 90+ MPH  – Value $17.00
Book 2: 7 Leg Exercises To Increase Pitcher Velocity – Value $18.00
Book 3: 17 Core Exercises to Increase Pitcher Velocity – Value $18.00
Book 4: 107 Rotator Cuff Exercises to Build, Protect and Maintain a Healthy Rotator Cuff for Life – Value $16.00
Book 5: 26 Dumbell Exercises For A Strong Rotator Cuff – Value $13.00
Book 6: 41 Stretching Exercises For a Healthy Rotator Cuff – Value $13.00

Book 7: 20 Resistance Band Exercises For A Strong Rotator Cuff – Value $13.00
Total Value – $108.00
Grab this ebook bundle today for only…
$29.99
Click Here or Add To Cart To Get Started Right Now